Get ready to take a mini-vacation to the beach where the sound of the waves will help calm and relax you in seconds.
So if you don't have the time to physically get to the beach today and could do with feeling a bit more centered then turn up the sound, sit back, relax and enjoy the break.
The beach is one of my favorite places to practice meditation. Of course, you want to make sure you don't get burnt so I either meditate early in the morning or as the sun is setting over the horizon.
If you've never meditated at the beach before it's really simple and you can practice using this video. There's nothing special needed except to listen to the sound of the waves.
You can even have your eyes closed or open during the meditation if you like. If you keep them open then just gaze gently at the image of the water while listening to waves.
My motto is the meditation should be simple, easy and fun,which is why I have put together a series of meditations just like this one. It's to show you that anyone can meditate with ease no matter where they are or what they are doing.
If you enjoyed this post please comment and share if you want more content like this.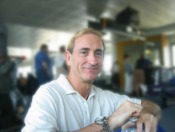 Michael Atma
Meditation Dojo Blog
Email: Michael@MichaelAtma.com
"I Teach You how to live a Happier, Healthier and More Peaceful Life in Just 5 Minutes a Day!"
If you want to learn how to meditate deeply in just 5-minutes then click here for your free 7-day trial!
http://www.meditationdojo.com/wp-content/uploads/2017/01/Meditation-Dojo-2017-5-300x77.png
0
0
Michael Atma
http://www.meditationdojo.com/wp-content/uploads/2017/01/Meditation-Dojo-2017-5-300x77.png
Michael Atma
2018-05-01 07:11:35
2018-05-01 08:11:32
The One-Minute Meditation Method