There's a lot of fuss in the media right now around mindfulness and what it can do to reduce stress. That's why I decided to talk about mindfulness exercises for kids as it's not quite as widely talked about just yet.
The reason for this is most likely due to the fact that mindfulness is really still in it's infancy stages when it comes to mainstream acceptance.
For some it's looked at as the new buzz around the world, much like yoga was a few years ago. For others, it's either something they are sceptical about, or they already use it daily and understand how it works.
Mindfulness And Children
Firstly, let me explain what mindfulness is. It's all about becoming an observer of the mind and body so that we can be focused in the present moment. This helps us to step back from the 'busy' mind which in turn leads to more calm, clarity and focus.
In the past few years mindfulness has been used as a way to treat children with a wide-range of conditions ranging from anxiety and depression, through to ADHD and stress. And the results have been tremendously positive.
But the real secret behind getting this to work with children is how you go about explaining it to them so that it makes sense to them even at the age of four, five or even fifteen. I'm going to explain exactly how this works in the video below so that you can decide for yourself if it may be something your child may benefit from.
Mindfulness Training For Children Explained
How did you go? I hope that the simple tips on how to help your kids get excited about meditating and make it a fun and enjoyable experience for them was a great place for you to get started from.
If you enjoyed this post please comment and share if you want more content like this.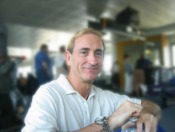 Michael Atma
Meditation Dojo Blog
Skype: michaelatma
Email: Michael@MichaelAtma.com
"I Teach You how to live a Happier, Healthier and More Fulfilling Life in Just 5 Minutes a Day!"
PS: If You Want to Learn MIndfulness Made Simple For Free in Just 5-Minutes a Day (Unless You Already Find it Easy) – Click Here For Instant Access
https://www.meditationdojo.com/wp-content/uploads/2015/10/Mindfulness-Exercises-For-Kids-Featured.jpg
300
700
Michael Atma
http://www.meditationdojo.com/wp-content/uploads/2017/01/Meditation-Dojo-2017-5-300x77.png
Michael Atma
2015-10-26 08:44:06
2017-06-08 07:29:11
Mindfulness Exercises For Kids