Happiness: To some, it means something that happens once a desired outcome or goal is achieved. To others, it is a desired emotional state that lifts their spirits and brings more contentment and joy to their lives. For most, happiness conjures fond memories of people, places or experiences that bring a smile to their face and a lightness to their heart.
And, according to science, this is a great thing as our health and well-being are dependent on our ability to switch off from the stress and pressure from our everyday work and lives. When we do this, then we can recharge our depleted energy levels and enjoy more stress free and happy times.
Meditation and Happiness Quotes
"If you want others to be happy, practice compassion. If you want to be happy, practice compassion." – Dalai Lama
"Happiness cannot be travelled to, owned, earned, worn or consumed. Happiness is the spiritual experience of living every minute with love, grace, and gratitude." – Denis Waitly
"Most folks are as happy as they make up their minds to be." – Abraham Lincoln
"Everything has it's wonders, even darkness and silence, and I learn, whatever state I may be in, therein to be content." – Helen Keller
Happiness Meditation Techniques
When it comes to meditation techniques and happiness, that's where things start to get really interesting. A recent study by the University of Sydney showed that on average, meditators had 10% better mental health than non-meditators, and were significantly better off in most health and well-being categories.
Pretty much any meditation technique can be used to allow more happiness in your life, the only catch being that it needs to be consistent. Daily meditation is obviously the most effective way to get the most out of your meditations, even if it's just for 5 minutes a day.
It's better to do that than try twenty or thirty minutes every now and then, as the benefits of daily practice will always outshine the casual approach. Think of meditation as a good daily habit to have that helps you to grow the happiness muscles in the mind and body.
From being able to think more rationally to developing a deeper sense of calmness, meditation and mindfulness techniques when used on a regular basis can bring you more happiness, health and enjoyment for life.
This meditation is just one that is similar to dozens of meditations that I have put together in Meditation Dojo. One of the main things that happens as we progress with our meditation journey is that our relationship to things that matter in our life like health, money, happiness, love and work, start to change for the better.
This change in the way we relate to the different parts of our lives starts to become easier and has a greater calm, clarity and focus to them. This is when our life starts to take off in new and incredible ways that simply would not have happened if we had stayed stuck in our old habitual ways of thinking and behaving.
Once we start to break free from our limiting thoughts, beliefs and habits, then success in anything we choose to focus on is inevitable and happiness becomes a way of life. All this and more is possible through daily meditation – but only when it's approached in the right way.
And the right way is the way that helps you to gain a new perspective on how you relate to your mind, while you are learning to meditate. This is exactly what I have created in Meditation Dojo and you can try it out yourself for free right here.
If you enjoyed this post please comment and share if you want more content like this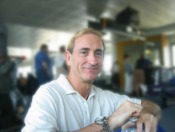 Michael Atma
Meditation Dojo Blog
Skype: michaelatma
Email: Michael@MichaelAtma.com
"I Teach You how to live a Happier, Healthier and More Fulfilling Life in Just 5 Minutes a Day!"
PS: If You Want to Have More Happiness in Your Life and Have Less Stress and Better Health – Click Here For Instant Access
https://www.meditationdojo.com/wp-content/uploads/2015/09/Meditation-and-happiness-featured.png
253
640
Michael Atma
http://www.meditationdojo.com/wp-content/uploads/2017/01/Meditation-Dojo-2017-5-300x77.png
Michael Atma
2015-09-02 00:35:16
2017-06-13 05:46:43
Meditation and Happiness