Even putting pressure on yourself to be relaxed can cause more tension in your life, which then makes it even harder to unwind. So we need to think about learning to relax in a different way.
Even though most people have a desire to rest, there's also a part of them that can feel guilty about taking time-out to relax because there is so much to get done and taking time-out means slowing down and getting even further behind.
Why do Meditation to Relieve Stress?
Meditation helps the mind to unwind and the body to relax . It gives the mind something to focus on other than things that make us feel more tense like feeling overwhelmed by our to-do list, worrying about a meeting or event we have coming up, or simply just being stuck in limiting or negative thinking.
Relaxation is the art of learning to do nothing with joy. It's about taking a vacation from the busy mind and overworked body for a few moments and allowing yourself to rest deeply without having any agenda in mind. I call this being present and accessing a deeper level of calm and peace that is missed when we stay stuck in the busy mind.
Tips For Meditation and Relaxation
When life gets stressful, as it is prone to do, we can inevitably find that we are forgetting to prioritize having some time for ourselves. While this may be okay for the short-term, if it's allowed to go unchecked long enough then we put our mental, physical and emotional well-being at risk.
1. Give yourself permission to take some time-out for you each day, even if it's only for a few minutes to start with. It might sound strange to have to give ourselves permission to do something but the simple fact is that we all have a set of rules we live by, and unless we make it okay to break those rules from time-to-time in order to enjoy a better quality of life, then it's unlikely to happen.
2. Do your best to get into the routine of taking time-out at the same time each day. We are creatures of habit, and the more you can stick to a similar time every day, the sooner it will become a habit. Also, be open to giving yourself more time-out's during the day if needed. If you notice that your stress levels are high, then throw in a few more time-out's during the day as required.
3. Focus on doing a meditation to relieve stress. One of the simplest meditation techniques to help calm your nerves, clear the mind and revitalize the body, is to do some mindful breathing as this will help you to step-back from the busy mind and find a calmer and more relaxed space to take action from.
A 5-Minute Meditation to Ease Stress
Was that helpful? Did you get value? Were you able to step back from the busy mind for a few minutes and give yourself a little space to think clearer and breathe more easily? Let me know in the comments and if you did happen to get value feel free to share this meditation to reduce stress  video with others. What if your friends and family could meditate this way? The quality of your relationships would go through the roof!
If you enjoyed this post please comment and share if you want more content like this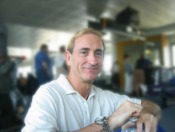 Michael Atma
Meditation Dojo Blog
Skype: michaelatma
Email: Michael@MichaelAtma.com
"I Teach You how to live a Happier, Healthier and More Fulfilling Life in Just 5 Minutes a Day!"
PS: If you love the idea of relieving and even preventing stress on a more consistent basis doing something that is easy-to-learn and can be used anytime, and anywhere, then Click Here  to Start Your Free 7-Day Mindfulness Made Simple Course
https://www.meditationdojo.com/wp-content/uploads/2015/08/Meditate-to-reduce-stress-featured.png
300
700
Michael Atma
http://www.meditationdojo.com/wp-content/uploads/2017/01/Meditation-Dojo-2017-5-300x77.png
Michael Atma
2015-08-10 03:08:54
2017-06-09 00:56:35
A 5-Minute Meditation to Reduce Stress