One of the questions I get asked all the time is what are some easy meditation techniques to get started with that actually work.
One of the reasons I love this question is because it's absolutely true that not all meditations are created equal. In fact, it depends a great deal on where the meditation originated and how long the person sharing the meditation has actually been using it.
The Power of Meditation
In the video below I'm going to outline the top five meditation techniques that have the power to change your life in a variety of ways. From having less stress and more energy, to being more focused and improving the quality of your relationships, there's no end to the benefits that meditation can offer.
For most people who aren't yet meditating or find it challenging to learn to meditate, the most common obstacles they face have to do with the belief that they are too busy, find it hard to quiet their mind, or can't sit still long enough to meditate.
The bottom line here is that all these challenges and any others you can think of are easily overcome when we approach meditation in the right way. So what exactly is the right way to learn to meditate? It's to understand exactly how to handle each of these obstacles as you encounter them.
So as well as giving you my top five techniques to get started with meditation, I'm also going to share with you how to use any obstacle to not only make meditation easier and more fun, but to give you the best chance to deepen your meditations right from the get-go.
Easy Meditation Techniques That Work Video

I hope this video helped to show you just how easy meditation can be, even if you've never meditated before. For most of us it's really just a matter of finding the right technique that works for you from the first time you use it. Once that happens, then all your meditation sessions will be a breeze.
If you enjoyed this post please comment and share if you want more content like this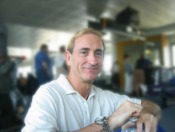 Michael Atma
Meditation Dojo Blog
Skype: michaelatma
Email: Michael@MichaelAtma.com
"I Teach You how to live a Happier, Healthier and More Fulfilling Life in Just 5 Minutes a Day!"
PS: If You Want to Meditate With Ease, in Just 5 Minutes a Day (Unless You Already Find it Easy) – Click Here For Instant Access
https://www.meditationdojo.com/wp-content/uploads/2015/09/3-Easy-Meditation-Techniques-That-Work-1.jpg
300
700
Michael Atma
http://www.meditationdojo.com/wp-content/uploads/2017/01/Meditation-Dojo-2017-5-300x77.png
Michael Atma
2015-09-17 01:00:13
2016-10-07 02:55:55
3 Easy Meditation Techniques That Work