Meditation really is for everyone and if you're new to it, or not quite sure about it yet then perhaps listening to why some super famous people are drawn to it.
Learning to meditate is one of the simplest things you will ever do. It's as natural as breathing yet I see so many examples of meditation teachers and mindfulness apps that make it so much more daunting than it needs to be.
I always advise people who want to succeed at their meditation practice to be mindful about who they choose to learn from as it could be the difference between feeling good about it or giving up all too soon. To quit before you get to experience the life-transforming benefits of meditation for yourself would be a travesty.
Like most people who meditate, I have my own daily practice I follow. My way of meditation is a little more flexible than most because I have over 180 different techniques to choose from. My favorite is mantra meditation as I find it helps to settle my mind quick quickly.
For some people though, they will need to start with a moving meditation, especially if you have a particularly busy and hectic lifestyle. The busier you are the more challenging it will be to slow the mind down and be able to sit still and meditate unless you move your body at the same time.
That's why mindfulness is all the rage now because you can be mindful while walking, eating, running, swimming, or while you are doing anything. This means you don't necessarily need to sit down and be still as you can practice your meditation on the go.
Celebrity Meditation Tips
Here's what celebrities like Katy Perry, Jim Carrey, Hugh Jackman, and more have to say about their experience of meditation.
Always remember that meditation works best when you practice it on a consistent basis. It's far better for your mental and physical to meditate for a few minutes every day than it is to try and cram in a 30 minute or 1 hour meditation once a week.
Most importantly, enjoy your meditation practice as it really is one of the most powerful tools on the planet to change your life both on the inside and the outside.
If you enjoyed this post please comment and share if you want more content like this.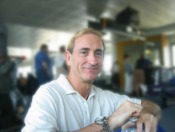 Michael Atma
Meditation Dojo Blog
Email: hello@meditationdojo.com
PS: If You Want To Learn To Meditate Deeply In Just 5 Minutes A Day – Click Here For Instant Access
https://www.meditationdojo.com/wp-content/uploads/2017/05/13-Celebrities-Who-Love-To-Meditate-Featured-Image.jpg
200
700
Michael Atma
http://www.meditationdojo.com/wp-content/uploads/2017/01/Meditation-Dojo-2017-5-300x77.png
Michael Atma
2017-05-31 04:17:45
2017-05-31 04:17:45
13 Celebrities Who Love To Meditate